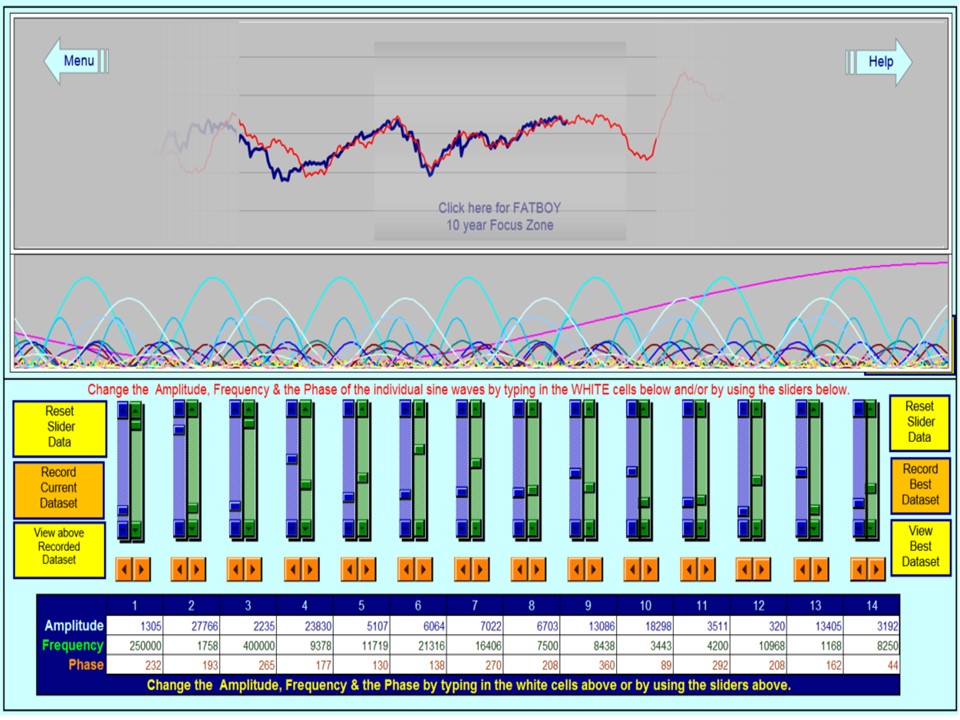 If you are interested in the NASDAQ or FTSE then this spread sheet could be for you.
This spreadsheets that accurately predicted the significant down-turn in the market in 2008. Unfortunately it looks like it is going to happen again from about . . . . . well, just download the spreadsheet and see for yourself!
Since the last market downturn we have upgraded the spreadsheet's user interface. We have developed it further and produced the fast Fourier Analysis Transform Basic Operating System (FATBOY) as a free issue. FATBOY, as it is called, uses multiple sine waves to create and forecast the FTSE. Tests are already underway and early indications are that not only is it very easy to use, (and maybe a bit addictive) but it is also proving to be a really excellent tool!
When right-clicking the FREE spreadsheet links below please confirm to open, then click the "enable content" and "enable editing" buttons.
For a FREE copy right-click and save the FATBOY - analysis spreadsheet .
FATBOY is virus-free. (no-matter what the browser says) Because the spread sheet has complex macros in it Norton etc. think it contains viruses!
The FATBOY system is virus free, but please e-mail me if you dont like downloading stuff and want me to send you an e-mail version.
FATBOY can also be used for predicting the GOLD price. Right click here and save target as..
For more information on the Fourier Analysis Transform Basic Operating System please contact us.
NB: Information correct at time of going to Press.